Coke Oven Doors & Frames

—

Compacted Graphite Iron



Turn to RAMM Metals for a superior solution to minimizing the warpage and cracking that occurs when coke oven castings go through many years of the heating/cooling cycle. Our new technology can greatly help reduce maintenance costs and improve air quality by reducing leaks during the operation of coke ovens. Call or email us to learn more.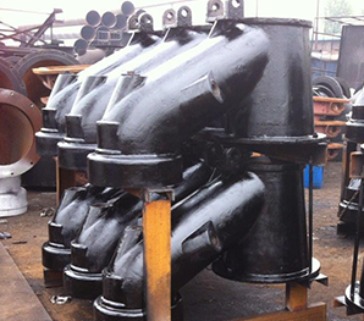 The Compacted Graphite Advantage
After years of comparisons, it was found that doors and frames made from gray iron are easy to break and crack. Additionally, doors and frames made from ductile iron are easy to deform and deflect. Avoid this by using our products. We make our coke oven doors and frames from compacted graphite (CG).
Our supplier has over 35 years of experience in the development and production of CG parts. Having mastered the ability to reproduce the CG matrix consistently, you can count on their products to last. This long experience with CG iron has shown that it can be used as a superior solution to the problem of warpage and consequent leaks that are caused by long exposure to high temperatures when using parts made in ductile iron. Another advantage of the CG iron is its higher mechanical strength than gray iron that prevents against cracks.
The same higher life in service of doors and jambs made from CG iron with no cracks and with no deflection applies for other cast iron parts, such as goose-necks, goose-neck extensions, leveler doors, leveler door frames, and charging hole frames and covers.
What are the benefits of CG Iron compared to gray irons and ductile irons?
When compared to grey irons, CG iron is more heat resistant and wear resistant.

CG Iron resists cracks and will not break under frequent "hot and cold" changing environment while the chrome heat-resisting gray iron tends to break under the same condition. Additionally, the heat resistance fatigue performance is much higher for CG iron than gray iron.
Regarding maintenance, the Strengths, Hardness and Impact toughness is much higher in CG iron compared to gray irons and this gives CG Iron jambs much better resistance to wear from cleaning equipment. CG iron jambs resist wear from cleaning equipment better than grey iron adding to their service longevity.
When comparing to ductile iron, there is no warpage (no deformation) due to stable elongation-resists deformation resulting from the heating/cooling cycle. Unlike ductile iron jambs, CG jambs can be taken out of service for repairs on the battery and reused without warping.
Coke Iron Door Jambs used in a coke oven battery must stay with no deformation in service to avoid gas leaks and consequent environmental issues. When the Door jambs are taken out of service for some maintenance job in the oven, they are put on the floor where they cool down. After the maintenance job is done, the Door Jambs have to be inspected to check if they deformed due to the thermal shock caused by the sudden cooling. CG iron for Coke Iron Door Jambs is expected to be more stable than ductile iron and have minimum warpage after use. Review the report available here which confirms the stability of CG iron for Coke Iron Door Jambs. The inspection is carried out on the width of the inside opening of the Jamb and also on the sealing surface of the Jamb.
In 2013 and 2014, some 4.7 meters Door Jambs were inspected in a coke plant in USA by the RAMM engineer and by the coke plant maintenance supervisor. All Jambs inspected were put in service in 2006 or 2007 so these inspections were conducted after 6 to 7 years of service. The results showed 80% (8 out of 10 pieces) of RAMM Jambs made in CG Iron (Compacted Graphite Iron) were good to be put back in service whereas 100% of competition Jambs made in Ductile Iron were scrapped due to "hour glass" deformation.

Sintering Plant Car Frames
The RAMM Pallet Frames for Sinter Car are made in Ductile Iron ASTM A536 Gr 65-45-12 Fully Annealed and the Pallet Ends are made in Cast Steel ASTM A-27 Grade 65-35, Fully Annealed. Typical Nodulizing level is 88-89%

RAMM has been supplying these castings to a Sintering plant in the USA since 2015 with a very good performance in service. Repeat orders have been placed in 2019. RAMM can also supply high-quality wear-resistant plates for Sinter Hot Chute.