Durable Ingot Molds for Industrial Use
At RAMM Metals, we specialize in making ingot molds. Our experts have the skills to produce long casts up to 220 in. (5588 mm) depending on your needs. Contact us today to have us create quality molds for you.
Produced by our supplier, our molds, stools, and spruce plates are made with high thermal conductivity gray iron (HTCI). This metal is obtained by metallurgical refining in the foundry ladle, using molten metal from the blast furnace. Life improvement between 15% and 50% on average, is obtained depending on the operating conditions and on the customer's maintenance program.
The high performance of our molds, stools, and sprue plates is due not only to the blast furnace iron but also because of the special process techniques used during the pouring and shake-out operations. They provide the highest thermal properties with properly balanced mechanical properties. The result is excellent performance.
The mold castings are made by the newest mold foundry in the world. Their superior technology results in castings that performed better than any other molds, stools, and sprue plates that are created in different gray iron grades. Additionally, we can supply molds in ductile/nodular iron. The main reason for our success is the technical support that we can give to customers and the foundries on mold design and repair and cast iron specification for each different application.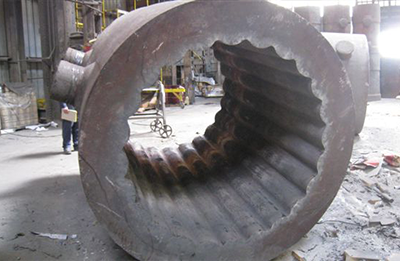 Our professionals have the training and tools to mold products quickly and effectively. Our capabilities include:
HTCI-Gray Iron (from 1 to 200 Tons in Any Shape)
Ductile Iron (from 1 to 30 Tons in Round, Square, & Near-Square Shapes)
Consumable Electrode Mold (Diameter 40 in (1016 mm) maximum, Length 220 in (5588 mm) maximum)